About Us
YUASA
Foundation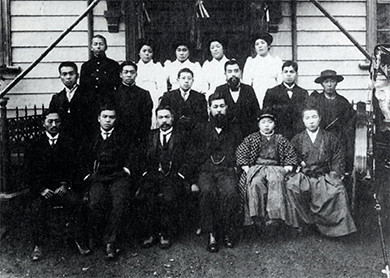 The history of YUASA Foundation started in 1887, when Dr. Tamenoshin Yuasa opened a private practice in Koriyama, soon after he had graduated from the medical department of Tokyo Imperial University. At that time, Koriyama was a small village with a population of 7,300, but in that year the Japan Railroad had opened a route to Koriyama, so Tamenoshin went to the village with a spirit of a pioneer. He earned a good name and reputation, because he was the first medical doctor in this district and he performed the first laparotomy in Koriyama. He was called "Railroad Doctor" and was loved by the people here. Thus, he solidified his base as a medical practitioner, and he finally decided to leave his hometown, Yamaguchi, and settle permanently in Koriyama. After that, his clinic continued to develop both quantitatively and qualitatively, and was incorporated as a foundation by his son, Daitaro Yuasa in 1953. Today, Yuasa Foundation responds to the broad needs of the region as a complex of healthcare, medical care and welfare.
Mission
Statement
We, the YUASA foundation will contribute to the enrichment of community health care with dignity and responsibility as the pioneer of modern medicine in this district, bearing the precept of "Patients First".
Our Principles
We step up efforts constantly to obtain the reliance of the region.
We always pursue our studies for better medical treatment.
We provide all people with fair medical treatment.
We practice medical treatment based on sufficient explanation and sufficient conviction.
We respect the patient's privacy and we value the patient's personal information.
We respect the patient's will.
We wish that the patient's life is filled with peacefulness and happiness.